Already have a building site selected?
Our building system is so flexible that we can create with just about any type of space that you are envisioning.
Please send us some information.  If we can get a good idea of the space you are wanting to create as well as some site specifics, we will be able to discuss with you in detail the possibilities for your project.  Once we have a general size and configuration in mind that fits your site and your needs, we will be able to provide you with estimated costing for design and engineering, as well as the structural, waterproofing, and ventilation systems.  We will also provide you with estimates on flat work and shotcrete for the shell.  These numbers along with the knowledge of what custom built homes are being built for in your area, will give you a very good idea of the scope of the project and the costs before we start on the official set of floorplans.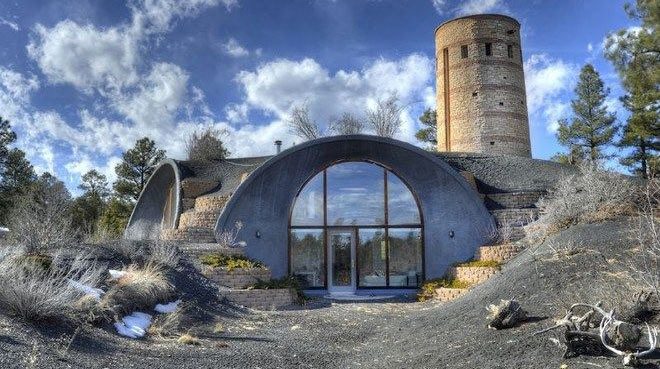 Still looking for a piece of property to build your Formworks home?
It is always beneficial to design a home to fit a particular site rather than design a home and try to force fit it somewhere.  There are many things we consider during the design process to minimize both labor and costs associated with excavation, retaining walls, access, etc. 
Your home design (configuration) will be, to a certain extent, dictated by your building site.  We will take in consideration the topography of the land, the elevation that the drive will come into the garage or parking area, as well as any views you would like to enjoy from inside your new home.  
A slightly sloping site will give you a bit more design flexibility.  Ideally, we would like to match the amount of cut and fill.  In other words, all the earth excavated out in preparation for the footings and slab will be reused to cover the structure once it is complete.  This will eliminate the need and the associated costs of importing/exporting fill material to and from the site.  A site that is large enough to stockpile the excavated earth during construction of the shell is ideal.
Does my home need to face South?  Not necessarily.  Although a south-facing site will give you the most solar gain, it is not a necessity.  These homes are incredibly energy efficient.  The direction your home faces plays a little role in the overall energy efficiency.
Keep us in mind while on the hunt for your piece of property.  When you come across a site that you are interested in, please send us some information on it.  We would be happy to take a look and offer some design possibilities for that particular site.